Greetings Pioneers!
All systems online, we're bringing you a development blog today that includes some of our latest and highest priority changes that we'll be introducing to the experimental build over the coming months. We have a couple of new and talented artists on the team as well.. so without delay, enjoy the eye candy!
Joe – Lead Artist
I've been looking over Davide's awesome turret concepts and starting the process of translating them over to 3D. Rather than having a set turret with just 3 static levels, we would like to have a modular system of upgrades, where players spend a limited number of points to progress down an upgrade tree.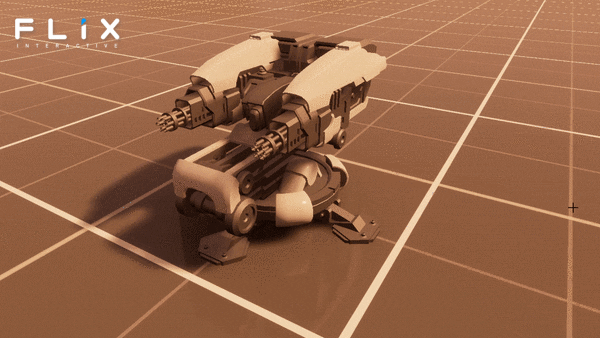 The current, rough outline is:
3 levels of "Base". Increased range/field of view?

3 levels of "Struts". Increased turn/activation speed?

3 levels of "Targeting System". Increased accuracy/lock on speed?

3 levels of "Receiver". Increased rate of fire?

3 levels of "Barrel". Increase damage?

Upgrade to add additional Barrel – doubles rate of fire?

Updated to add Armour Level 1 and Level 2. Increased health?
All of this is in addition to the portable mini turret.
All of this gives you a ton of variation in visuals and playstyle, but you'll have to think carefully about which upgrade path to take. As always, this is just the current plan and subject to change!
Davide – Concept Artist
In the process of unifying the look and feel of the technology of Eden Star, this week I've been looking at the aesthetics of the transport, redesigning its surfaces to fit more with the look we have in mind.

We want the technology to look and feel grounded, functional, but at the same time to have a very distinct visual signature, alternating clean, bright armoured panels with darker, more mechanical layers. In this design process the visual motifs will then transfer to other mechanical hand-made objects, when the overall design satisfies us.
Glenn – 3D Artist
I have been working on the Transport Vehicle, created a new wheel and got it in engine. Its looking good and I'm really enjoying Davide's new design for the back of the vehicle which fits much better with this new wheel design.
Here's a shot of the construction of the wheel, the model with wireframe, baked low poly model and finished textured asset.
We got it working in engine with some nice decals. It fits in well with the hoverbike design!
I have also been working on the metal node which was lovingly sculpted by Basia Ulczok, one of our artist/animators. We have had a placeholder in game for a while and now we have a good high quality asset in there. Here's a shot of the construction of the asset, low poly wireframe, baked mesh and finished textured asset.
I got the metal node implemented in game with Joe's help and you should all be able to mine it in the experimental branch soon!
Andy H – Level Designer
Been creating fully destructible outposts and placing them in the world and working on an exciting new turret upgrade tree with Tom W
Ricky – Lead Developer
Long overdue updates to the reticle system. I've been working on putting back in the fancy reticle animations when targets are in range, colouring them red when targeting enemies and all that jazz. The updated system provides us more freedom this time around so expect to see more diverse and unique reticle displays for different weapons.
That's it for now.. check back for updates soon.
See you in the fray!
-Team Flix